Students tend to be busy with their studies, taking exams and maintaining their other activities. However, some of them are also spending their time on websites and forums to learn more about different subjects. They are among the students who leave negative reviews on these platforms. paper perfect editing There are no fake reviews as real buyers usually provide a name and an order number. The length of reviews can help you distinguish between real and fake reviews. True reviews are concise and concise, while fake reviews go on for pages.
NPU-FEIAP Training on Outcome-based Professional Engineer Development & Assessment
(18 December 2020)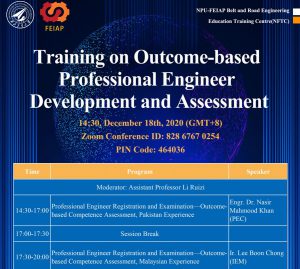 The training on Training on Outcome-Based Professional Engineer Development and Assessment was held on December 18th, 2020 virtually using Zoom. The training was hosted by the NPU-FEIAP "Belt and Road" Engineering Education Training Centre (NFTC) and supported by China Association of Science and Technology (CAST).