NPU-FEIAP AAP Outcome Based Engineering (OBE) Training (17 – 18 May 2021)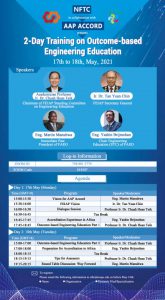 The 2-Day Training on Outcome-based Engineering Education was held on 17th and 18th May 2021. Virtually using Zoom. It is the first training session hosted by NPU-FEIAP "Belt and Road" Engineering Education Training Center (NFTC) in 2021. This training was held in collaboration with the Africa, Asia and the Pacific Accord (AAP Accord) with the support of the Federation of African Engineering Institutions of Asia and the Pacific (FEIAP), the Federation of African Engineering Institutions (FAEO) and China Association of Science and Technology (CAST).
The 2-day training is the first training of AAP Accord since it was signed by FEIAP and FAEO Presidents on April 16th, 2021. The speakers are Professor Ir. Dr. Chuah Hean Teik (FEIAP Standing Committee on Engineering Education Chairman), Ir. Dr. Tan Yean Chin (FEIAP Secretary General), Eng. Martin Manuhwa (FAEO Immediate Past President) and Eng. Yashin Brijmohan (FAEO Chair of Standing Technology Committee on Engineering Education).